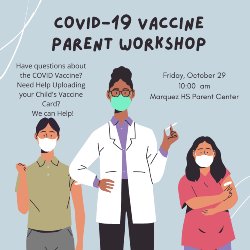 What

COVID-19 Vaccine Parent Workshop/Taller para padres sobre la vacuna COVID-19

When

10/29/2021, 10:00 AM

–

11:00 AM

Where

Parent Center/Centro de Padres
Have questions about the COVID Vaccine?
Need Help Uploading your Child's Vaccine Card?
We can Help!

¿Tiene preguntas sobre la vacuna COVID?
¿Necesita ayuda para cargar la tarjeta de su hijo?
¡Podemos ayudar!